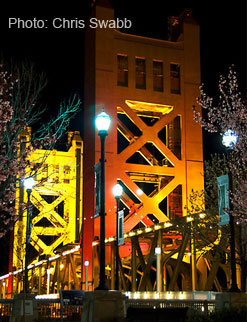 Tower Bridge was juried into the latest
Art Institute Show at Balboa Park in
San Diego, California.


Traveling with Your Photography Equipment
If you love photography, when you travel, you will most likely want to bring your photo equipment with you. Traveling with your photo equipment does not have to be complicated.
Here are a few tips.

History of Panoramic Photography
View from the top of Lookout Mountain, Tennessee, Albumen prints, February, 1864



by George N. Barnard


One of the eariliest patents for a panoramic camera was submitted by Joseph Puchberger from Austria in 1843. Later, in 1844, Friedrich von Martens from Germany developed a successful and technically superior panoramic camera, which broading the horizions and insured the contunious development of panoramic photography. Friedrich von Martens added the crucial feature of set gears which offered a relatively steady panning speed. These earily developments would increase the level image quality of panoramic photography.

Soon after the invention of the wet-plate collodion process, photographers could take anywhere from 2 to a dozen prints and piece them together to form a panoramic image. This photographic process was technically easier and far less expensive than eariler process. These later developments would play a key role in the growth and popularity of panoramic photography.

In today's times the digital camera has lead to a whole new revolution in photographic possibilities.
On Assignment Studios is happy to play a role in this evolution by producion a series of stunning panoramic photos.


An Evening at Windansea, La Jolla, California, 2009


by Chris Swabb